Activision ha hecho oficial el retorno de su héroe más clásico, creado por David Crane a principios de los '80, Harry se ha paseado por multitud de plataformas.
Ahora vuelve en una nueva aventura para todos los sistemas (PS2, GCN, Xbox y GBA). Desarrollado por la compañía tejana "Edge of Reality", se espera para Otoño.
A continuación podéis ver la primera captura y la nota de prensa: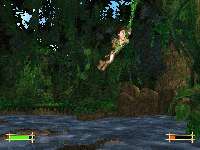 ACTIVISION'S LEGENDARY PITFALL® HARRY SWINGS ONTO NEXT-GEN CONSOLE SYSTEMS THIS FALL
London, UK - January 29, 2003 - Activision, Inc.'s (Nasdaq: ATVI) legendary Pitfall® franchise is swinging onto the next-gen consoles as the daring explorer Pitfall Harry packs his wits, athleticism and quick reflexes and embarks on an all-new adventure deep in the South American jungle. Featuring over 50 perilous levels including lush rain forests, creature-ridden caves and vast glacial mountains, the game challenges players to explore a dynamic obstacle-filled world. Developed by Edge of Reality, Pitfall® Harry will be available Autumn 2003 for the PlayStation®2 computer entertainment system, XboxTM video game system from Microsoft, Nintendo GameCubeTM and Game Boy® Advance, and is not yet rated by ELSPA.

"Pitfall Harry will let players take on the role of the daring explorer who laughs in the face of danger as he rescues those in distress from deadly foes and searches for lost treasures," said Larry Goldberg, executive vice president, Activision worldwide studios. "This all new adventure delivers highly detailed graphics, fast paced action pathways and a host of interactive goals. Classic vine swinging and pit hopping action combined with Harry's quirky sense of humour will make Pitfall Harry one of the most sought after titles of the year."

Gamers assume the role of Harry, a fearless, rough-and-ready treasure seeker who battles evil using his athletic ability and a knapsack filled with adventure gear. Harry must race against a rival explorer to find hidden treasures, which in the wrong hands could spell doom for him and his friends.

The vast landscape, ranging from forests to ancient ruins to subterranean mines, provides players with countless game options as they face the consequences of their decisions. Crossing treacherous jungle terrain and dark areas filled with puzzles, tricks and traps, players swing on vines, avoid crocodiles and dodge rolling logs as they unearth artefacts and use their cunning to defeat dangerous foes.